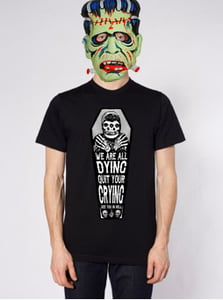 $

25.00
WE ARE ALL DYING!
QUIT YOUR CRYING!
SEE YOU IN HELL!!!
Words to live by!
Pre-order your "We Are All Dying" Shirt & Patch pack now!
Each (Tultex) shirt will be hand screened (white on black).
Each (black and white)embroidered patch will be coffin shaped and feature the same design as the shirt (3" x5").
Delivery in 6-8 weeks